Description
Main Benefits
4 pockets; zipper

For stroller and shoulder

Includes changing mat, two holders and strap

Nature Vibes Collection

Durable and easy to clean
helper in walk
The TREASUREBAG will delight all parents. It is very spacious – with 4 pockets it will help you to organize every big or small trip on your walk. It not only offers space for the children's accessories, but also for your personal things such as a wallet or keys. It is provided with a zipper. The set includes a changing mat for the baby, handles for attaching the bag to the handle of a stroller and a long shoulder strap. The TREASUREBAG is part of the Nature Vibes collection – thanks to its original design, it not only goes well with the other accessories in the collection, but also with everyday styling.
certificates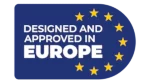 Main features
Spacious – 4 pockets
The TREASUREBAG offers space for all your hiking accessories. It has 4 spacious pockets including a zip pocket – for wallet, keys or phone. The main pocket closes with a zipper.
Nature is always with you
The bag has a fashionable design from the Nature Vibes collection. It is very elegant and suitable for everyday styling. It goes perfectly with the other parts of the Nature Vibes collection.
Tourist changing mat
The bag comes with a tourist changing mat that matches the bag. It allows you to swaddle your baby in hygienic conditions in any situation.
For stroller and shoulder
The TREASUREBAG can be worn on the shoulder or attached to a stroller handle thanks to the included handles. This keeps your hands free and makes it easier to take care of your baby on walks. A shoulder strap is also included with the bag.
Easy to clean
Spilled milk, juice or wet clothes? No problem – the TREASUREBAG is made of easy-to-clean material. Simply wipe the inside of the bag with a damp cloth and it's like new again.
materials
PU and Polyester

Durable, easy-to-clean materials

Polyester with foam insert

The changing mat is easy to clean and the foam insert increases the comfort for the baby when lying