Description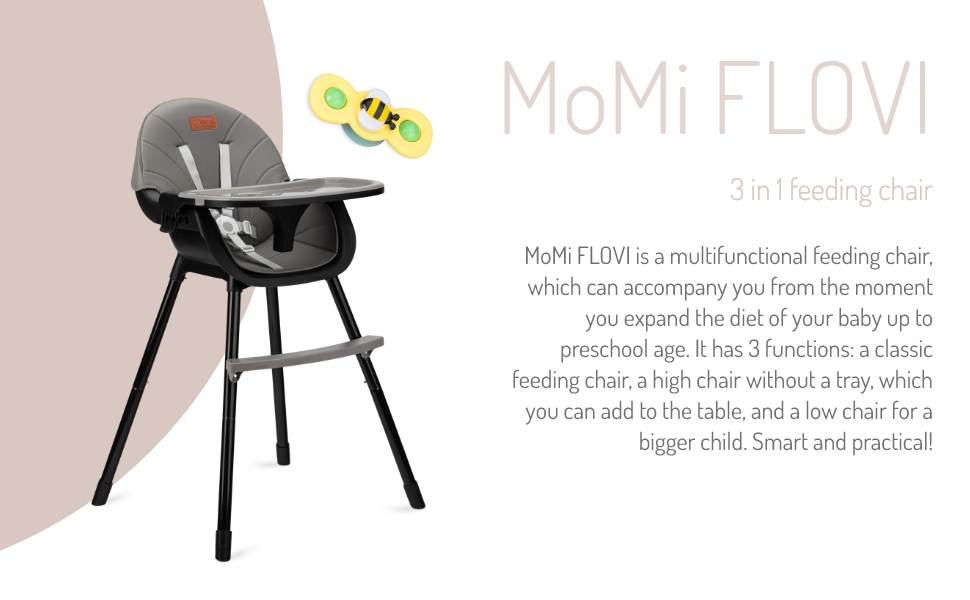 MoMi FLOVi is a feeding chair for a baby with three modes:

High chair
High chair that you can add to a table
Low chair for an older child

After shortening the legs of the chair you'll have a low chair, which will be perfect for an older child. You can also use the option to remove the seat belts. Such a chair will fit a small table.
Simple lines and minimalistic design are the staples of MoMi FLOVI. The backrest was designed so that it supports the back during meals.
Upholstery is made of eco-leather, which is easy to clean. Just wipe it with a cloth and it's done – no stains or discolouration.
The double tray of MoMi FLOVI is adjustable, which means you can place it at different distances from the child depending on age and needs. It has a cup holder. The top tray is dishwasher safe.
You'll find included a small toy. It has a suction cup which is why it won't keep falling. It's a small thing but it keeps the baby happy while waiting for a meal ?
Features:

easy to clean upholstery made of eco-leather
footrest
double, adjustable tray with a cup holder
a top tray that is dishwasher safe
additional toy with a suction cup
high chair up to 15 kg
low chair up to 20 kg