Description
Main advantages
2-in-1 – bouncer and rocker
Five rocking speeds
Sideways rocking
Sideways rocking will help your child fall asleep
LULI is a rocker-bouncer that'll quickly rock your child to sleep. The pendulum-like sideways rocking motion reflects the natural motion of the child in the mother's belly, meaning it's familiar and pleasant for your little one.
Certificates
Designed in Europe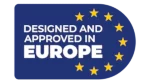 Made for Mums 2022
Key features
Sideways rocking
The LULI bouncer-rocker gently rocks your child from side to side. This motion reflects the natural motion of the child in the womb, making your little one feel safe. It will calm your child and make it easier for them to fall asleep.
Bouncer and rocker in one
LULI is a 2-in-1 product. It acts as both a bouncer and a rocker – the rocking frame can easily be locked in a static position. The motor is very quiet, so when your child starts dozing off, you don't have to worry that the noise will wake them up.
Large range of adjustment
The bouncer has five rocking speed options, allowing you to tailor the speed to your child. In addition, it also features 12 melodies, volume control, and a timer that can be set to 8, 15 or 30 minutes.
Wide, comfortable seat
LULI features a wide, comfortable seat. Your child can rest in the rocker in comfort, and the pleasant-to-the-touch material is very cosy.
Removable, soft cushion
LULI features a removable cushion with sewn-in reinforcements to provide your child with complete body support and better adjustment to their height.
Five-point harness
The rocker has an adjustable five-point safety harness that can be adjusted to two positions.
Materials
Plush

The soft toys are made of plush, which is pleasant to the touch

Steel

The steel frame is sturdy and stable

Polyester

The polyester cover is very easy to clean