Description
Main advantages
3 in 1 feeding chair, a pre-schooler's and adult's chair
From 6 months to 110 kg
Supports correct posture
Accessories included
Innovative Dutch design
Supports the child at every stage of development
We introduce LIVY – a 3-in-1 feeding chair that will support your child at every stage of life. It is a piece of furniture that will last for years: the original feeding chair can be transformed into a chair for a pre-schooler or later into a chair for a teenager thanks to a hex key that is included. It has a load capacity of up to 110 kg, so the parents can take the little one on their lap while sitting in the chair. This will make it easier to feed children who prefer to eat on mum or dad's lap. LIVY will be present in the child's life, whether for feeding, first attempts at drawing or doing homework. The Dutch designers, Bas Otten and Camille de Vrede, have combined the latest interior design trends with well thought-out functional solutions and ergonomic principles when creating LIVY. LIVY feeding chair has a profiled backrest, which supports the growing spine of the baby. Together with the adjustable footrest and adjustable seat depth, LIVY can be perfectly fitted to the growing child. Thanks to the 4-stage height adjustment, LIVY can be quickly and effortlessly adjusted to tables of different heights.
Certificates
Designed in Europe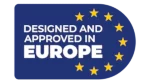 Made for Mums 2022
Key features
From 6 months to 110 kg
Babies often involve their parents in various activities – that's why LIVY has a load capacity of up to 110 kg. Thanks to this, parents can sit in the chair together with their toddler on their lap. You can spend time together knowing that you are safe.
Support for the spine
LIVY was designed in accordance with ergonomic principles. Its profiled backrest, wide seat and adjustable footrest support the correct posture both when eating and sitting at the desk.
Multi-level adjustment
LIVY has a 4-stage seat height adjustment, so you can fit it to tables of different heights. The combination of the 3-step seat depth adjustment and the adjustable footrest allows for a perfect fit for your growing baby.
Dutch design
The innovative design has been developed by Dutch designers – Bas Otten and Camille de Vrede. They have designed a multifunctional chair that combines the latest interior design trends with functionality and ergonomic principles.
Practical accessories
LIVY will accompany your child from the moment he or she learns to sit up. You will not need to buy more accessories to increase the functionality of the chair. LIVY comes with a silicone non-slip tray pad, a guard rail with harnesses, and a soft pillow.
Can be combined with CALMEE
You can buy the CALMEE bouncer for LIVY. You can combine it with the highchair to create a high bouncer so that you always have your baby at eye level.